Are your clients looking for ways to improve recruitment and retention? If so, employee experience should be top of mind – and the right human capital management (HCM) technology can make all the difference.
To identify the areas where HCM tech has the biggest impact on experience, we surveyed more than 1,000 full-time employees across a variety of industries, seniority levels and regions in the United States.
Top takeaways include:
Poor onboarding experiences can impact turnover

Many employers are making payroll and scheduling errors

HR virtual assistants are welcomed by the workforce

Employees want to be empowered to give back at work

Political and social issues are divisive

Learning management systems play an important role in development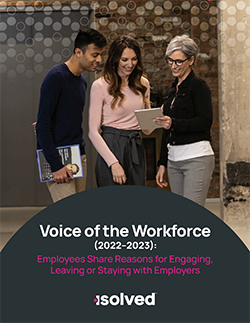 Your document is now downloading.
If the download doesn't start automatically,