This release will make it easier for users to keep track of and maintain employee information.
Benefit Evaluation Utility
Our 7.15 release has an exciting new evaluation that helps identify employee profiles that are missing important details from our predefined categories such as birth date, social security number, gender, and address. When selecting the "Data Requirements" category on the far left of the new user interface, two radio button sub-category options will be displayed as listed below for identifying employees with missing fields.
Show Employees with any missing values.
Show employees with missing required values only.

This change is key for implementation success and auditing. As you can observe in the third screen shot below, the user can successfully query employees who meet your selected radio button criteria. Finally, there's been a streamlined update to radio buttons under the Employee Loss of Eligibility category which is third from the left. This is a notable improvement over the former check boxes in the last screen shot below.

The below image is a screenshot of how the tool appeared prior to this release.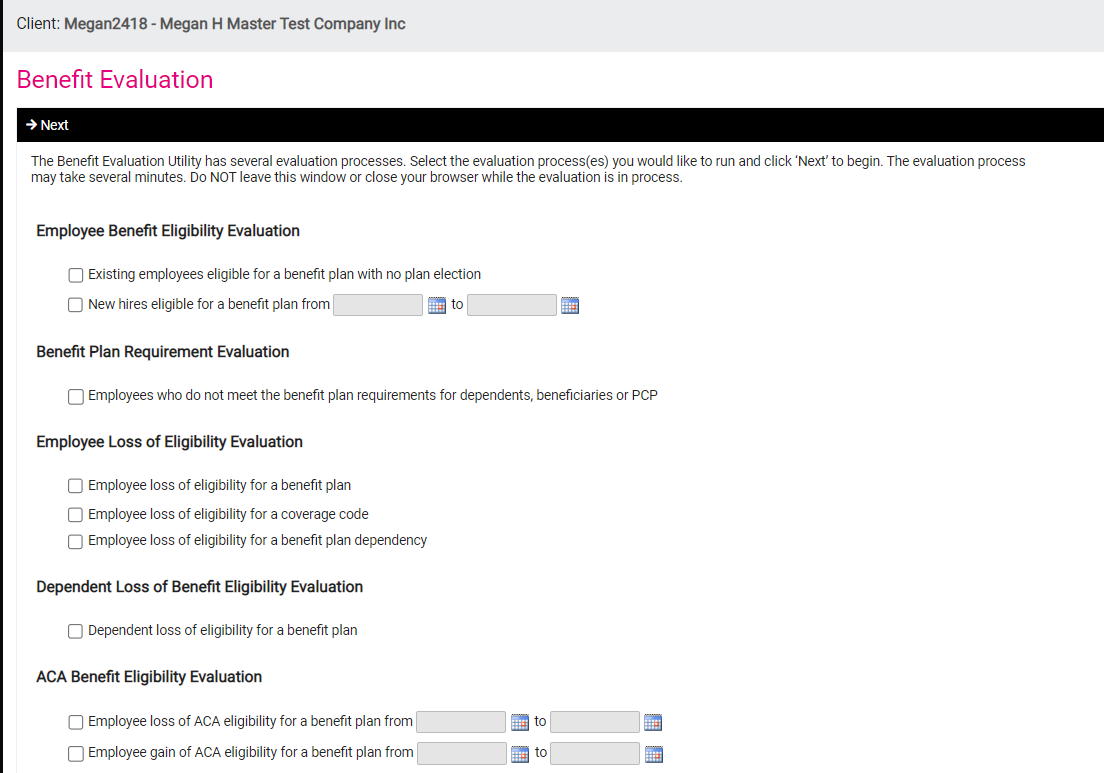 Managerial Assignments
In our last 7.14 release we added a Managerial Assignments analytics screen for Employees, Supervisors, Managers, and Job assignments. With our 7.15 Release we have added a new tab titled "Organizational Assignments" located to the right of Job Assignments at the top navigation bar. This tab will display active and inactive employees who are categorized as managers and supervisors within your managers. Like the Employee Assignments and Job Assignments Tabs, users can export reports to Microsoft Excel or use the filters within Column Chooser to reflect their specific viewing preferences. The data seen in the Managerial Assignments screen is obtained from the Organization Supervisor/Manager screen under Employee Maintenance.

Payroll & Tax Maintenance
When adding a company located within New Mexico, users will now be prompted with a popup window that has the check box "Track Not Taken Balance" option automatically defaulted on the New Mexico Workers Compensation Assessment Employee Tax Fee. This release was catalyzed by New Mexico's reconciliation challenge that occurs when the employee is not being paid. If the employee is not listed there or doesn't pay their fee at the end of the quarter, the fee will revert to the employer who is responsible for any unpaid tax.